Inventor Highlight
The Challenge of Translating Technology into Products
Barriers to Developing a Cleaner Environment
At IPRS, we are engaged in research and development of innovative products and services. Our name speaks to who we are and what we do. We celebrate innovation and innovators and advocate for systems that support the inventive process. We conduct research into developing knowledge that will lead to new products to solve substantial problems. We provide services that help bridge the gap between available technology and application of that technology to meet people's needs. It is in working with hundreds of inventors and inventions that we have come to appreciate the hurdles that must be overcome in gaining acceptance and application of anything that is novel or unfamiliar whether that be a new product, a new procedure or a new way of looking at things. There is an inherent inertia on the part of organizations, as well as individuals, to maintain the status quo even when there are obvious deficiencies in "the way things have always been done." At the corporate or government agency level there are also often strong forces at work to preserve the current system. This may involve financial incentives, political pressures from special interest groups, stakeholder positions of power and influence or just plain indifference to the harm that might come to those outside the inner circle. For a more in-depth treatment of these topics see our webpages at Environmental Solutions and Environmental Issues in Transportation.
In the pages to follow, we share the story of one very clever inventor/engineer, Dr. Dae Sik Kim, who has been motivated not by the possibility of fame or fortune; but, by the desire to create solutions to problems that impact all of our lives. Early in his career working for a top oil company he developed an instrument and procedure for measuring the engine viscosity of lubricants under cold temperatures. This led to the better understanding of the Viscosity Index Improvers in multi-grade motor oils at low temperatures (see Wikipedia article at https://en.wikipedia.org/wiki/Cold-cranking_simulator ).
When a pilot plant was needed to produce a new type of VI Improver, EP copolymer, based on the new rheological understanding, he built the unit in three months using the used parts from a junked larger pilot plant thereby bypassing the slower "normal way of doing things." The plant was large enough to supply the East Coast.
When the auto emissions (smog) covered the Los Angeles basin, the California Air Resources Board (CARB or ARB) was established in 1967. In the same year, CARB set a target for 90% reduction in auto emissions. The auto industry claimed "it could not be done." Dr. Kim's employer tasked him with meeting the goal. Within two months he reduced 92% of emissions from a 1967 Impala using a Synchro-Thermal Reactor (Glass et al., 1970) and an Exhaust Gas Recirculation (EGR) device that reduces nitrogen oxides. (see Wikipedia at https://en.wikipedia.org/wiki/Exhaust_gas_recirculation ). These developments provided the technical basis for the passage of the Clean Air Act Amendment of 1970.
Dr. Kim subsequently tackled the problem of lead in gasoline that presented a major health problem. The lead also poisoned the catalysts used to remove other harmful emissions from the combustion of gasoline. A combined effort of the automotive industry, the oil industry and government regulators resulted in an effective compromise that saves countless lives from lead poisoning.
The next challenge faced was to further remove harmful combustion products from internal combustion engines; namely, carbon monoxide, volatile organics (such as methane), nitrogen oxides, sulfur oxides and particulates. A solution was developed, a prototype car produced and the invention patented in the early 1970's. To this day the key concepts developed by the inventor remain ignored by automakers and alternate solutions are being pursued such as hybrid and all electric vehicles. This is despite the fact that long range (over 450 miles between fuelings) minimal polluting (well below current emissions standard), high efficiency (near 90 mpg), and cost effective vehicles (under $15,000) are feasible. Spin-off technologies (using similar novel combustion processes) are also available that could reduce emissions and particulate matter from sources outside the transportation sector. A summary of features appears in the table of Figure 1 below.
Figure 1
Summary of Points of Novelty for Kimat Car
1. The separation of the engine from the direct drive train so as to allow the engine to run optimally all the time leading to greater fuel efficiency (>90 mpg).
2. 2. Use of an energy storage system (for hot compressed gas) that is responsive to high demand (acceleration or hill climbing and passing).
3. 3. Elimination of heavy components (big engine, transmission and drive train) leads to less cost to manufacture and greater operating efficiency.
4. 4. Can use a lower horsepower engine without sacrificing performance.
5. 5. Novel energy storage system can drive most accessories including A/C, power brakes, steering, etc. providing more weight reduction.
6. 6. Integrated clean burning system using a ceramic honeycomb base that reduces nitrogen oxides (NOx) and oxidizes carbon monoxide (CO) sulfur oxides (Sox), hydrocarbons (HC) and particulates to levels well below current targets.
7. 7. Low carbon footprint over-all from raw materials to manufacturing processes to operation and end of life disposal.
8. 8. Reduction in vehicle weight and horsepower means much higher gas mileage and range.
In one spin-off of the technology indicated in #6, a patent describes a machine that purifies the indoor air in home, commercial or industrial buildings. In another patented spin-off, solid wastes including plastics are decomposed into water and carbon dioxide with the release of thousands of BTU's that may be utilized for various purposes. In a third patented application, contaminated air may be purified along with recovery of water that can be used to humidify the exit air.
Having developed these transformative technologies, Dr. Kim went on to develop a novel painting system that eliminated much of the "fumes" associated with the painting process. Air pollution from painting buildings, bridges, etc. is a major source of volatile organic compounds in the air we breathe, second only to the automotive emissions. He was met with much resistance from the major paint producers. He has continued to develop a system for spray painting that protects both the painter and the surrounding air. This system is useful for both indoor and outdoor applications.
For each of the systems/solutions developed Dr. Kim has encountered resistance from persons/industries with vested interests in the status quo. It remains to be seen whether and how these barriers might be overcome. It is likely to require more strict government mandates and/or more public outcry or lawsuits against the perpetrators of the present polluting systems and products.
We invite readers of this website to offer suggestions for support to hasten the adoption of these technologies. This might be as public advocates (see link below), making introductions to corporations or investors, offering technical or financial support (to upgrade our website and media presence). We welcome your participation. Our contact email is: myhealth@iprsinc.org
See list of Advocacy Groups for Low Polluting Transportation Advocacy Groups.
Technical Background
Early in his career at Esso Research Dr. Dae Sik Kim was tasked with working on oil products that would perform well under cold temperatures. He found that there was no standard way to determining viscosity of lubricants at different temperatures; so, he developed such a device and procedure. More specifically he developed and published details of a cold cranking simulator. The details of this device which became the industry standard may be found in the Wikipedia article mentioned above. Link: https://en.wikipedia.org/wiki/Cold-cranking_simulator
Technical details for the low pollution automobile are described in US Patents: 3672160, 3643640, 3641767, 3513929 and 3463425. The full title and dates are in the following section. Some aspects are also detailed in a Society of Automotive Engineers (SAE) Transactions paper referenced below (see Glass, Kim and Kraus, 1970). Still other aspects are explained in the Wikipedia entry entitled: Exhaust Gas Recirculation. Other pertinent background of the inventor is his Doctoral dissertation in chemical engineering at Ohio State University on "Fluid-Particle Heat Transfer" which was granted in 1965.
Figure 2 from patent 3,513,929 illustrates how the components could fit into a standard automobile frame. Figure 3 from patent 3,672,160 provides further details showing three major components; namely, a gas generator (optimized ICE), a capacitive energy storage (honeycomb ceramic core) and a separate power turbine drive system. Internal temperature may be as much as 2000 degrees F. to assure total breakdown of potential pollutants.
Figure 2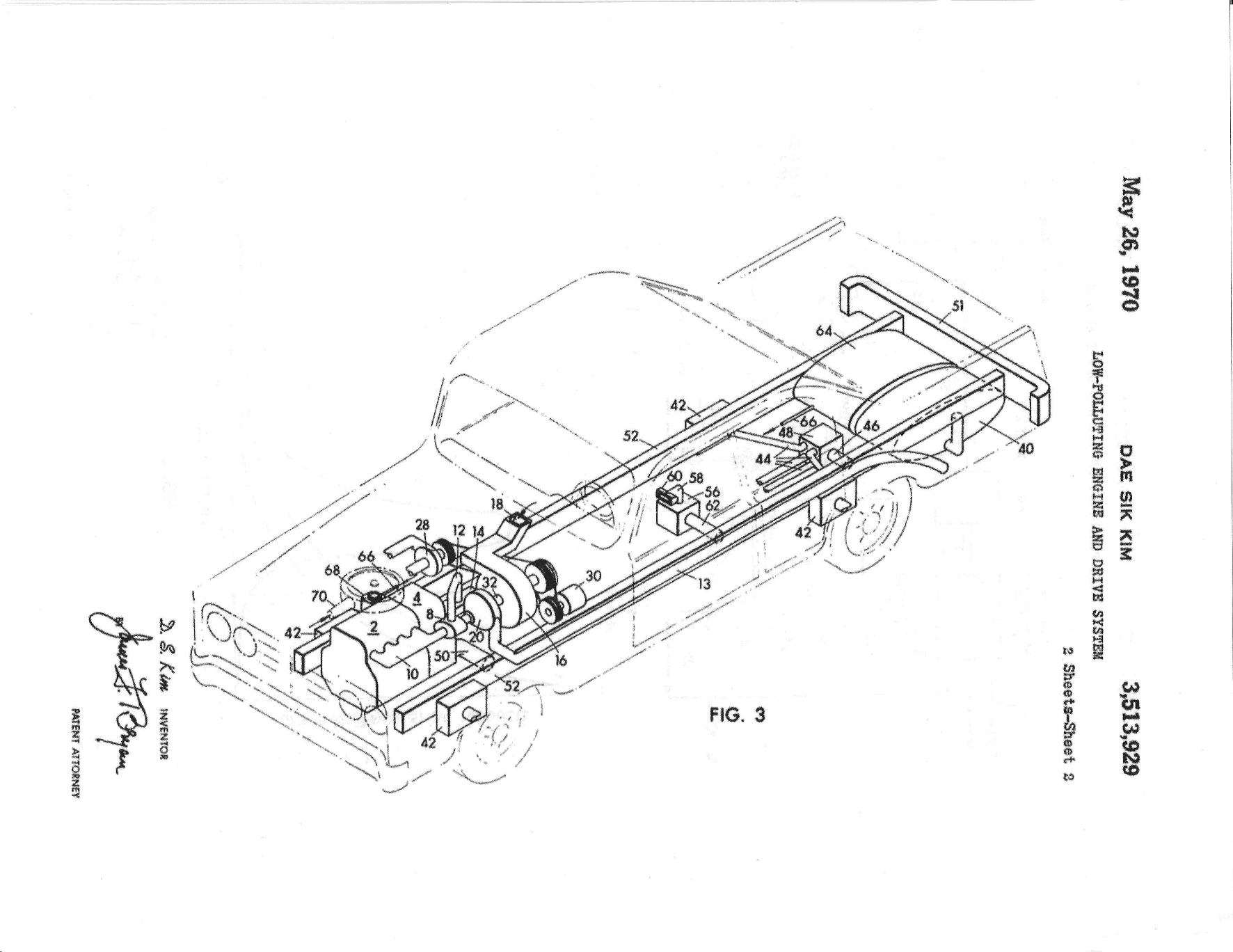 At the bottom of Figure 3 is an illustration providing further details of a novel drive system. The drive system provides a means for turbine speed reduction, turbine starting, selection of two speeds, and regenerative braking. The regenerative braking concept was subsequently adopted for the early Toyota hybrid.
Figure 3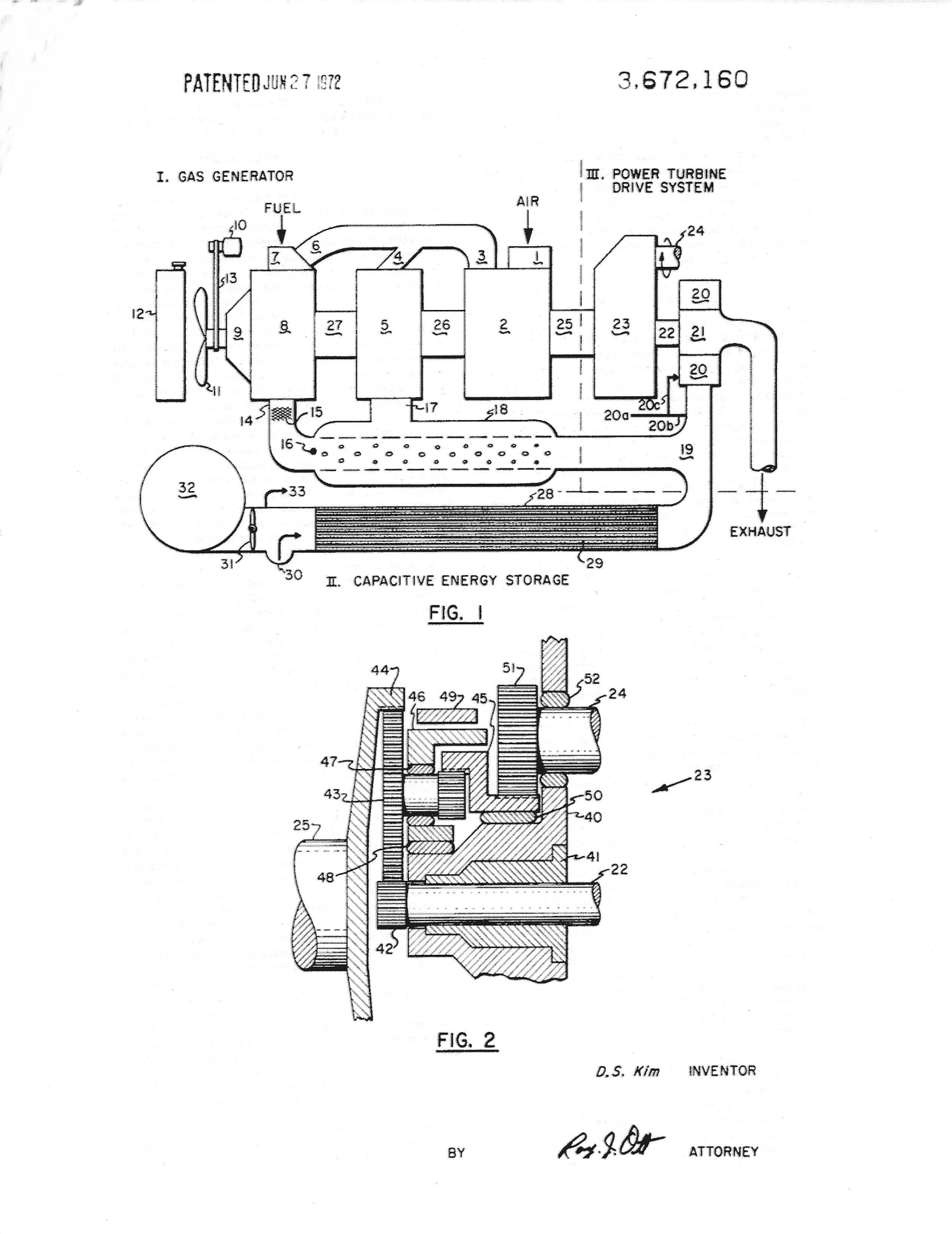 Automotive Inventions of D.S. Kim
Kim, D. S., "System for Producing Substantially Pollution-Free Hot Gas under Pressure for Use in a Prime Mover," U.S. Patent 3,672,160, June 27, 1972


Invention and development of the long range 'non-polluting' high efficiency, advanced automotive power plant system and prototype car. (Refer to U.S. Patent 3,513,929 and related eight foreign patents.)
Kim, D. S., "Low Polluting Engine and Drive System," U.S. Patent 3,513,929, May 26, 1970
Invention and development of "Synchrothermal Reactor System" and construction of the experimental low polluting engine. (Refer to U.S. Patents 3,641,767, 3,463,425. and 3,643,640 and the paper below).
Glass, W., Kim, D., & Kraus, B (1970) Synchrothermal Reactor system for Control of Automotive Exhaust Emissions. SAE Transactions, 79, 580-589. Retrieved from www.jstor.org/stable/44717974.
Kraus, B. J., and Kim, D. S., "Low Polluting I.C.E. Wherein Exhaust Gas are Recycled in a Controlled Pattern," U.S. Patent 3,643,640, Feb. 22, 1972
Kraus, B. J., and Kim, D. S., "Low Polluting I.C.E. Wherein Secondary Air is Utilized to Prevent Overheating of the Exhaust Manifold," U.S. Patent 3,641,767, Feb. 15, 1972
Kraus, B. J., and Kim, D. S., "Low Polluting I.C.E. Wherein Secondary Air is Injected into the Exhaust Ports," U.S. Patent 3,643,425, Feb. 22, 1972
Other Kim Inventions Using Ceramic Core Technology

Energy efficient and non-polluting combustion processes and products
EcoHeating System, a very high thermal efficiency (99.4 %), non-polluting vented forced hot air heater that humidifies and purifies the air without any additional equipment or water supply. (US 5,560,350).
High efficiency incinerators for household/medical/marine solid wastes, or discarded tires. (US 5,632.210).
Compact, high efficiency air purifier for painting, printing, dry-cleaning shops or Diesel engines. (5,547,640).
Figure 4 is a picture of a honeycomb ceramic core that is similar to what is used in the air purifiers as well as in the automotive applications. Dr. Kim's research includes the study of the thermodynamic properties of such cores and how they can be used to destroy chemicals and particles in streams of hot air that pass through them. In particular, a method has been developed to retain high temperatures in central parts of the core while remaining near room temperature at the output. More details of the heat transfer phenomena may be found in the doctoral research of Dae Sik Kim in the chemical engineering department of Ohio State University (published by University Microfilms, Inc. 1965 under the title "Fluid-Particle Heat Transfer."
Figure 4
Honeycomb Ceramic Core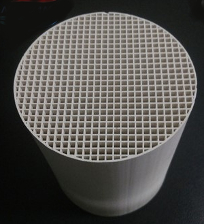 Additional details of these inventions are available to those who wish to convert the foregoing technologies into commercial products. Contact Dr. Job at: myhealth@iprsinc.org
Information on Dr. Kim's other inventions may be found at the following website: Dr. Kim Overview
Return to:
Environmental Solutions
Policy Development
Transportation
Role of Government
Advocacy and Influencers
---
© 2019 - 2022, All Rights Reserved, IPRS Inc.
Revised: April 21, 2022